Recipe Books
Nourishing food for beautiful skin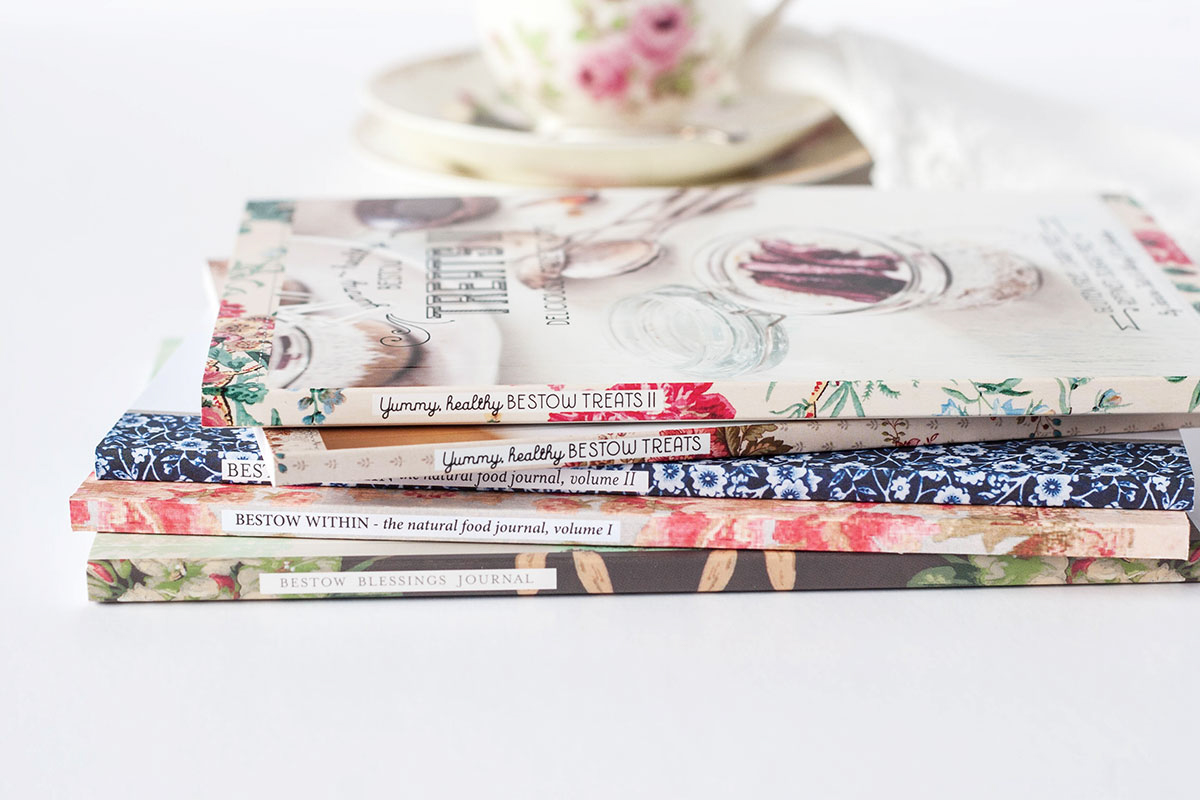 The beautifully designed Bestow Recipe Books are filled with healthy recipes, which will inspire you to make positive changes to your diet.
The recipes are mostly gluten free, dairy-free and always refined sugar free and have been designed with skin health in mind.
Your diet will have a huge influence on the results you can get for your skin. These inspiring books inspire you to eat delicious, nourishing food that will support beautiful skin from within.
Bestow Recipe Books Are Designed With Skin Health In Mind
BESTOW RECIPE BOOK CREATORS
The Bestow Recipes books are a creative collaboration between dermo-nutritionist, Janine Tait, and food-guru and breast-cancer survivor, Sheryl Nicholson.
"These Bestow recipe books are a wonderful resource for you. We encourage you to use them alongside the other Bestow products to inspire your clients to make positive, lasting changes to their diet. We know they will thank you for it!" Janine & Sheryl
Eating the Bestow way nourishes and supports beautiful skin
What we feed our bodies has a significant impact on our skin.
Each skin-friendly Bestow recipe avoids heating and congesting foods (which can aggravate skin conditions) and uses soothing, cooling alternatives instead. This is essential if you want to overcome skin problems like acne, rosacea, dermatitis or dull, congested skin.
The good news is that all Bestow Recipe books avoid all heating and congesting foods, so all of the hard work is done for you!
Instead of focussing on what you can't eat, you can enjoy what you can eat.
What are heating foods?
Certain foods can heat your skin, causing it to appear reddened and sensitised. These foods are called 'vasodilators' and they heat your skin by increasing the blood flow through your fine capillary system. Coffee, alcohol, spicy foods, chilli, oranges and strawberries are all common culprits.
If you are prone to red or sensitive skin you need to avoid 'heating foods'. Instead, bestow your skin with strength and vitality by choosing cooling, soothing alternatives. Bestow Within I provides a comprehensive overview of heating foods and their skin cooling alternatives.
What are congesting foods?
When the oil (sebum) in your skin is flowing as it should it plays an important role in protecting your skin and keeping it strong, supple and smooth. However, if your skin has a tendency to congest, congesting foods in your diet will cause the sebum to thicken and block your pores, resulting in bumps and breakouts.
If you suffer from acne, you need to avoid congesting foods. Common culprits are ice-cream, nougat, chocolate, cheese, milo and protein powders. Bestow Within I provides a comprehensive overview of congesting foods and their skin smoothing alternatives.
BESTOW WITHIN I
The first recipe book in the Bestow ranges provides easy ways to help you incorporate Bestow Beauty products into healthy everyday recipes. It includes basic recipes for good health like smoothies, salad dressings, fermented food for gut health and nutritious meals for everyday use. It comes with a comprehensive introduction, which introduces the concept of eating for skin health and provides information about heating and congesting foods and their alternatives.
BESTOW WITHIN II
A helpful complement to Bestow Within I, this book offers a wider repertoire of tasty skin-safe recipes. It contains lots of warming, nutritious meals for the cooler months and some of our favourite recipes!
If you have a sweet tooth, Bestow Treats I and Bestow Treats II will provide you with delicious alternatives to skin-damaging treats. Each refined-sugar free treat in our books is flavour and nutrient rich which means just one or two servings are very satisfying – truly! When you have healthy treats on hand for when cravings strike, bad habits will begin to fall away.
BESTOW TREATS I
Bestow Treats I contains a gorgeous range of nutritious treats. Some of our favourite recipes are Raw Coconut Rough, Bestow Raspberry Smoothie Parfait and Gluten-free Blueberry, Coconut and Almond Cake.
BESTOW TREATS II
Bestow Treats II contains a gorgeous range of puddings, tea-cakes, friends, raw slices and healthy chocolate. Some of our favourite recipes are Almond Coconut Butter Fudge, Kumara and Boysenberry Cake and Festive Rocky Road.
SAVOUR (Vegetarian Recipe Book from Bestow)
ORGANIC | SEASONAL | LOCAL.
SAVOUR brings to your kitchen a nutritious and tasty collection of one-dish savoury meals which celebrate organic, locally-grown, seasonal vegetables. Vegetables are the unsung heroes in our modern diets and we are on a mission to change that. These recipes will show you how easy it can be to put a tasty and nutritious meal on the table based on seasonal vegetables.
"At Bestow, we are committed to working from within to achieve beautiful skin, total body health and an energised, meaningful life. Vegetables are the unsung heroes in our modern diets and with SAVOUR we are on a mission to change that. These beautiful recipes make it easy to put a tasty, nutritious meal on the table based on seasonal vegetables." Janine & Sheryl
SAVOUR ORGANIC: The more distant we have become from the source of our food, the sicker we have become a population. The recent rise of readily available, nutrient rich, organic fruit and vegetables is a wonderful gift for us in our wellness journey. Once you taste the fuller flavours, you'll find it hard to go back.
SAVOUR SEASONAL: To get optimum health benefits from fruit and vegetables you need to eat them fresh, so stay close to nature's rhythms. When you take your cues from nature you'll never be stuck for what to cook. As a health bonus, nature provides us with food that is rich in certain nutrients we require for each specific season.
SAVOUR LOCAL: Once upon a time we knew the names of the people who grew our fruit and vegetables. The knowledge and passion that goes into growing organic fruit and vegetables is hugely valuable. Let's support our local growers so they can continue to supply our communities with life-giving produce.
JANINE TAIT
Bestow Founder, Skin Coach, Dermo-nutritionist
Creating SAVOUR has taken our team on a journey of learning to include more plant-based foods in our diet and encouraged us to get creative in the ways we use seasonal produce.
Plants are a rich source of biologically active substances that provide vital nutrition and reduce our risk of many diseases. Many plants contain powerful anti-inflammatory compounds, an important factor for promoting healing in both body and skin.
With this in mind, we invite you to come on this colourful journey with us. SAVOUR will help you to discover, new, simple and tasty ways to nourish your skin through the seasons.
SHERYL NICHOLSON
Food Guru, Designer, Photographer
Six years ago I was diagnosed with invasive breast cancer. This shock was the catalyst for my wellness quest and brought about a transformation in the way I eat. Fresh, seasonal food became very important to me and this is when vegetarian food began to feature more in my diet.
These days I have more energy, less bloating and live lighter because my digestive system is no longer bogged down by eating meat seven days a week. I am also happy to report that my cancer journey has ended in remission!
The SAVOUR collection has been a joy to create. One-pot savoury meals bursting with flavour are my favourite meals to make and I also enjoy the creative challenge of making vegetables the star of the dish.
I hope you enjoy cooking fresh, easy, nutritious food that promotes a healthier and happier you.